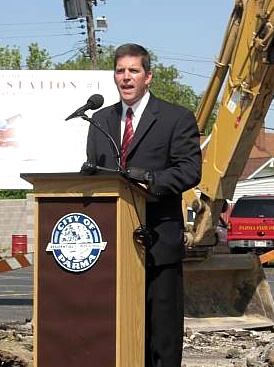 Dean E. DePiero is the 13th and youngest mayor elected to serve as the City of Parma, Ohio's chief executive officer. The municipality is Ohio's seventh largest city with a population of over 85,000.
Among the other fine businesses throughout Parma, we are proud to be home to General Motors Metal Fabrication Division and Graftech - an international leader in graphite technology.
Prior to taking office on January 1, 2004, DePiero represented the 15th Ohio House District for five years. At the time, the district included Parma, Brooklyn, Linndale and Middleburg Heights. He served as House Democratic leader - the highest ranking party member in the legislative body. DePiero also represented the residents of the City of Parma, Ward 4, as their council representative from 1995 - 1998.
After being elected mayor, DePiero made across-the-board reforms and cost-cutting initiatives.
He has implemented major programs such as police accountability, far-ranging streets and road improvements, spurred economic development and new housing construction, improved parks and recreational activities, boosted programs for seniors and sparked an overall resurgence for the municipality.
A key component to DePiero's vision is an intense focus on improving the local economy through growth of our medical facilities. The City of Parma is proud to be home to Parma Community General Hospital, one of the areas only remaining independent, not-for-profit hospitals, as well as Kaiser Permanente - the largest Kaiser facility east of the Mississippi. Next year, the Veterans Administration is expected to break ground for a state-of-the-art outpatient facility.
Additionally, Cuyahoga Community College Western Campus - which is located in the city - will soon open a Health Technology Center to train future health care workers.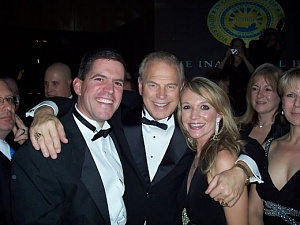 In July 2008, DePiero married local Fox 8 personality Kathleen Cochrane. DePiero is the youngest of four children born to Jerry and Roberta. He was born at Parma Hospital in 1968 and grew up in the city. DePiero's father is a retired Parma fire fighter and owns and operates a realty company in Parma with his wife.
DePiero attended Holy Name High School, graduated from Ashland (OH) University in 1990 and earned a law degree from Cleveland Marshall College of Law in 1994.
He began his political career in 1995 as a councilman for the City of Parma. During the same time, he served as an assistant law director and prosecutor for the City of Berea - also a Cleveland suburb. DePiero was elected to the Ohio House of Representatives in 1997 and took office in January 1998.
A staunch proponent of regionalism, DePiero was elected President of the Ohio Municipal League, serves on the executive committee of the Cuyahoga County Mayors and Managers Association, is a board member for the Northeast Ohio Regional Sewer District (NEORSD), and is a past board member of the Northeast Ohio Area Coordinating Agency.
He was also asked to serve on the Governor Strickland's transition team as an advisor as well as to review Ohio's Lottery Commission.
He was admitted to the Ohio Bar in 1994. DePiero is also a member of the Parma, Cleveland, Cuyahoga County, and Ohio Bar Associations and is a practicing attorney with an office in Parma. He specializes in business and contract law, criminal law, real estate law and probate law and also serves as "Of Counsel" for McDonald Hopkins attorneys at law located in Cleveland, Ohio.
In 2001, Crain's Cleveland Business named DePiero one if its "40 under 40", which spotlights 40 Greater Clevelanders under the age of 40 who have made an impact on northeast Ohio.
(back to top)
---
Accomplishments of the DePiero Administration
Worked with Safety Director Gregory Baeppler and Police Chief Daniel Hoffman to restructure and implement needed reform within the Police Department.
Hired new police and fire recruits for the first time in over four years.
Brought added technology to the Police Department through the purchase of in-car computers for patrol officers. (Soon to be added to patrol cars will be dashboard video cameras.)
Saw several new housing construction projects begin, the first such projects in decades.
Two new fire stations are under construction that will replace outdated facilities and better serve Parma residents. New fire stations to be completed in spring/early summer 2007.
Finalized the creation of 300-plus acres of protected green space within the City through partnerships between the City, the Cleveland Metroparks and the West Creek Preservation Committee.
Continued working relationship with the Parma City Schools, including a partnership to improve an abandoned construction site on Biscayne Avenue.
Improved recreational facilities throughout the City including the ball fields and adding a walking path at Veteran's Memorial Park.
Improved City Hall through upgrading the heating/cooling system. Installed new windows to reduce energy costs; thus a savings to taxpayers. Authorized the modernization of City Hall's first floor conference room.
Overseeing the sale of the city-owned and operated Schaaf Community Center which had become a costly burden to the City. Participating in a multi-community review to study the potential of fire department regionalization.
Appointed an independent Blue Ribbon Commission to review City finances and operations to help guide the City.
Oversaw the widening of Pleasant Valley Road and the installation of several sanitary sewer systems.
Increased partnership with Parma's ministerial community.
Created the Parma Community Emergency Response Team (CERT) to work in collaboration with the Parma Fire Department in the event of emergencies.
Increased the partnership between the City and Parmatown Mall to include moving the City's Department of Recreation into the facility.
Balanced three (3) budgets, and working on a fourth, despite tightening tax dollars.
Completed half of contract negotiations with City unions with the remainder to be completed soon. Through this process and for the first time, have employees making a contribution to their healthcare coverage.
Implemented a fair and ongoing sweep of the City's residential properties to ensure maintenance of Parma's housing stock. The objective is to continue making the municipality a great place to live and raise a family.
Approved expansion of Manor Care's Arden Courts on Sprague Road that will create additional jobs.
Eliminated the ability of cabinet-level members of the Administration to earn overtime and compensatory time; saving tax dollars.
Brought increased technology to City Hall by creating a municipal website, implementing email and internet access to employees and encouraged direct deposit of employees' paychecks.
(back to top)
---
Boards and Associations